DAYCARE SERVICES (08 MONTHS – 72 MONTHS)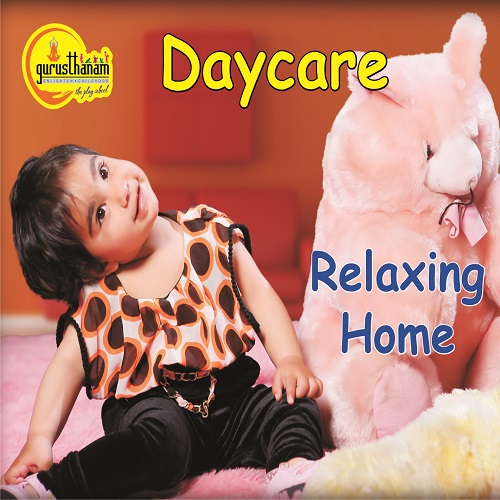 Kids go where there is excitement. They stay where there is love. : – Zig Zaglar
We offer Day Care programs at Pre Schools and ensure that, apart from having fun, children get a safe, relaxed and comfortable environment throughout the day. Children also have the freedom to play on their own under careful supervision. In addition to the various structured activities like drawing & colouring, dancing, shlokas, rhymes.
The Day Care routine includes a dedicated nap time, snack time and play time for both indoor & outdoor (subject to weather conditions) activities. In essence, the Day Care at our nursery is a home away from home. Our experienced teachers and assistant teachers take good care of the children throughout your working day.
The premises are safe, secure and suitable for their purpose. They provide adequate space in an appropriate location, are welcoming to children and offer access to the necessary facilities for a range of activities which promote their development. We provide furniture, equipment and toys which are appropriate for their purpose and help to create an accessible and stimulating environment. They are of suitable design and condition, well maintained and conform to safety standards. We take positive steps to promote safety within the setting and on outings and ensure proper precautions are taken to prevent accidents. We promote the good health of children and takes positive steps to prevent the spread of infection and appropriate measures when they are ill. Children are provided with regular hygienic drinks and food in adequate quantities for their needs.
Our staff actively promotes equality of opportunity and anti-discriminatory practice for all children
You can choose from the various day time options that we offer at our Pre School.
Full Day Care
Working mothers also have the option of sending their children for the full day. Full day children can then benefit from the fully equipped Pre School for the entire day. They can avail of all the facilities of the best care and excellent pre-school learning in addition to the adequate time to relax, dine, sleep and play under the continuous supervision of the dedicated staff.
Drop and go
Drop your kids and let them enjoy their time while you finish some chores!
We understand how busy and demanding a Parent can be so we are excited to introduce our concept of Play Care. We are more than just a play area; we have a Drop-Off service for kids from the age of 18 months and up. For those parents that need a safe, healthy and clean environment where they can leave their kids while they attend to their everyday chores or even a few hours of "me-time", Gurusthanam is the best place to be!
Corporate Child Care Services
We are keen to help employers solve their childcare issues. Organisations operating family friendly policies, such as providing help with childcare, see a reduction in costs and an increase in productivity. Recent research by Cambridge University found that 9 out of 10 establishments which had family friendly policies in place, were cost effective. Help with childcare provision was found to have a significant association with improvements in quality performance and a reduction in labour turnover. Family friendly policies were associated with above average financial performance, labour productivity, quality and sales performances.