OUR SCHOOL DAY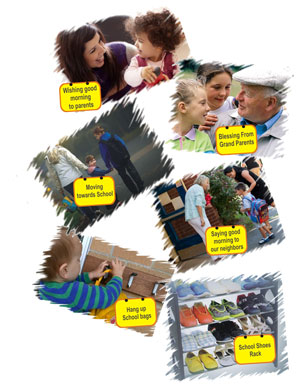 At Gurusthanam Playschools, families begin to arrive at 8-9am(Depending on city and location) and children generally start their day in our outdoor classrooms. With multiple experiences offered in our outdoor environments, such as sand and water play, art, music, construction and even language, we place an importance on the children's learning and participation outside as much inside.
After a healthy snack, children are encouraged to share with their peer group their thoughts and ideas during class connection time which in turn will direct their ongoing investigations and projects as well as experience choices for the rest of the morning.
During the week all of Gurusthanam Playschools children have the opportunity to spend time with our Language and Music teachers. and visit areas other areas of our school such as our recycling studio, school library, community gardens and artists in residence. At least once a week our older children walk through the jungle pathway, up to the football fields beyond, where they are greeted by a qualified football coach from International Soccer Academy for their PE lessons. Most of our younger children leave at 12noon however older children take the option to finish at 3pm, staying for lunch together with their friends and teachers. With a host of opportunities at Gurusthanam Playschools many families choose to send their children to afternoon music, mandarin, yoga, drama or art as an additional experience within our village grounds.