PRE NURSERY- TODDLER PROGRAM - (15 MONTHS – 22 MONTHS)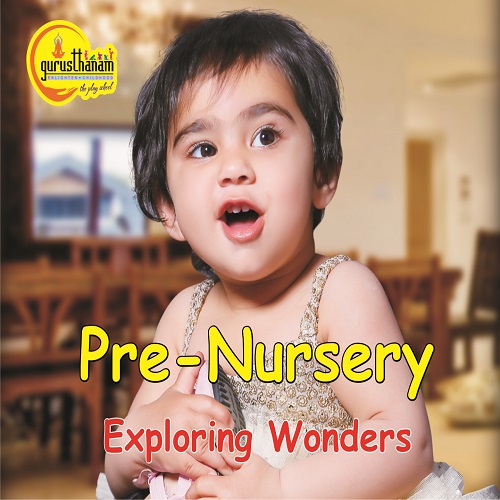 We believe that toddlers learn the best being active and getting engaged in sensory experiences. Talking, climbing, and exploring is the most enjoyed by them. We focus on toddler's growth, self-esteem, and develop natural curiosity by developing unique skills, interests, and strengths. We encourage them by exploring, discovering while supporting their growing independence. We encourage little ones to express thoughts and feelings by developing relationships with others and a lifelong learning of love. This educational approach allows developing skills in communication and empathy socially. We provide endless opportunities for toddlers to learn and play in an inviting, age-appropriate, and safe environment. At Gurusthanam, toddlers develop a variety of skills, including physical, speech, social-emotional, cognitive, self-help, and gross and fine motor. Our experts recommend a balance diet for good health. This will ensure your children are getting all the nutrients they need to excel.
The skills are integrated through Montessori and different conventional methodology including music, art, table toys, movement, games, puzzles, and books. A daily schedule meets the needs with both structure and flexibility. Although teachers attend to individual needs, the group or whole class experience is a very important aspect of our program. By continually listening, talking, and describing actions to our toddlers, we help enhance vocabulary, expand expressive language skills, develop self-esteem, and increase awareness.